Our staff and Board of Directors bring a wealth of experience in music, non-profit work, medicine and healing. Everyone is deeply involved in supporting the organization, both through volunteer work and as donors of record. Read our latest newsletter and follow us on Facebook.
Executive Director
With great regret we report the death of our friend, JJeff Badger. JJeff joined our Healing Muses team this past July as the new ED. We were grateful to have the benefit of his experience in healing arts administration, during the challenges presented to our organization by COVID. 
He will be remembered with much affection for his absolute dedication to music, his willingness to step up and seek ways to bring music to our community despite the limitations of quarantine, and his quirky sense of humour, which was most often displayed in funny social media posts, some of the best displaying matching face masks with his little dog, Lord Woofington. 
Thank you, JJeff. Travel safely to the other shore.
Musicians
The "Muses" are the professional musicians on our staff who provide the healing music that is our organization's mission. Each musician commits to a regular schedule, in order to learn each facility's routines and needs, and to support each location's own program of care.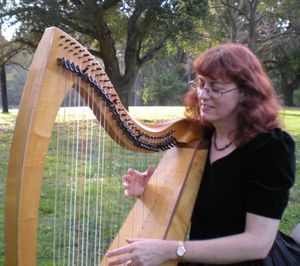 Margaret Davis
Margaret is a professional Celtic harper, singer, recorder player and flutist, with a B.A. in Music. She leads Celtic/Early Music trio Brocelïande and co-leads Celtic rock band Avalon Rising. A third-degree Reiki Master/Teacher, she brings her healing skills and awareness to every engagement.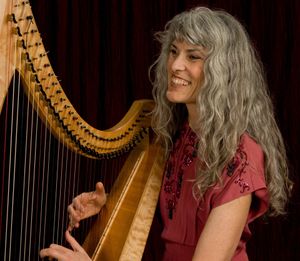 Patrice Haan
Patrice is our longest-serving Muse, having played harp with Healing Muses since 2004. Additionally, she served Healing Muses as Executive Director from 2012 to 2020. Outside of Healing Muses, Patrice is known for her intuitive songwriting and beautiful voice. Our CD A Garden of Healing (2010), includes two of her original pieces and a vocal performance.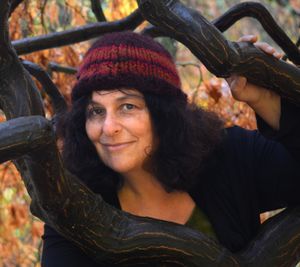 Shira Kammen
Shira received her degree in music from UC Berkeley and studied vielle with Margaret Tindemans. She has been a member and leader of several ensembles, including  the SF Bay Area's Christmas Revels. Shira brings to Healing Muses' clients the breadth and depth of her knowledge in Celtic, American, and early music traditions.
Our History
Healing Muses was founded in 1999 by Eileen Hadidian, a professional flautist and recorder player who found great strength in music during her own battle with cancer.
At the time, hospitals were just starting to recognize the power of music and other forms of pain management as key to healing. Eileen's article "Healing with Music" framed the conversation; Healing Muses' program grew quickly to include many Northern California hospitals and in 2001, incorporated as a 501(c)3.
We are grateful for her vision.
---

Board of Directors
Marla Fibish -- President 
Musician and Instructor

Philip Batchelder -- Secretary
Trusts and estates Lawyer
Musician
Inanna Hazel -- Treasurer
Managing Director of Pesticide Action Network, Berkeley
Musician
---

Medical Advisor
Bruce Victor, M.D.,
Distinguished Fellow, American Psychiatric Association
Former Clinical Professor of Psychiatry, School of Medicine, Univ. of California San Francisco